We are accredited to fabricate any branded solid surface/benchtop
Corian sets the standard when it comes to safe and effective benchtop fabrication. Since Advanced Cabinetry holds Corian Accreditation, that means we are licensed to fabricate any solid surface brand for your kitchen. On this page, you'll find detailed information about all of the brands we work with to help you make the best choice for your Kitchen Renovation in Geelong or Ballarat.
Corian accreditation number: CFI 378
Corian Solid Benchtops
Widely regarded as the safest, most functional benchtop material in the industry, Corian Solid Surface provides a seamless, stain-resistant counter for any design. Corian benchtops are constructed from natural bauxite and an acrylic binder, which means they are 100% free of quartz and silica. We can cut Corian Solid Surface to almost any shape, any size on-site without any fear of harmful contaminants being released. Corian is easy to clean and resistant to germs, making it the perfect material for your kitchen benchtop.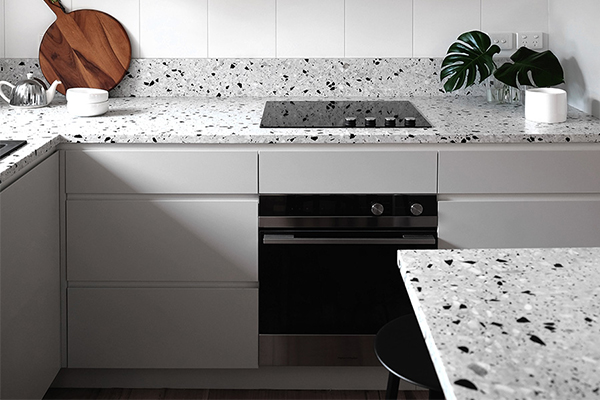 Laminex Hi Macs Benchtops
Hi-Macs surfaces from Laminex serve a wide range of industries. If they are hygienic enough for healthcare facilities and durable enough for the demands of hospitality businesses, you can bet they are a good match for your home kitchen. Hi-Macs combines minerals, acrylics, and natural pigments to create a highly customizable, seamless benchtop available in a wide range of colours. The non-porous solid surface allows Hi-Macs to repel dirt, germs, and food particles. Prep your meals on a beautiful benchtop that makes cleanup a cinch.
Staron Benchtops
Staron is another solid surface that boasts over 100 patterns and colours to choose from. Two of the most popular sets are called Tempest and Supreme. Tempest imitates the brilliance of diamonds and precious metals, while Supreme creates a contemporary aesthetic inspired by the colours of nature. The surface is non-porous, making it suitable for a wide range of applications and easy to clean. Staron can be molded into almost any shape, and edges can be glued together for a completely seamless look and feel.
Laminex Benchtops
In addition to their solid surface solution, Laminex brand also boasts high quality laminate benchtops. Laminate offers an affordable way to get the look and functionality that you need from a kitchen counter. Finishes range from oak to charcoal to granite, and everything in-between. They are exceptionally versatile in both colour and texture. When you choose Laminex laminate, you can find something to match just about any kitchen aesthetic while still remaining highly water resistant and durable.
Formica Benchtops
Formica brand laminate benchtops are known around the world for their durability, easy maintenance, and superior look. Formica benchtops are available in more than 100 colours, featuring a variety of finishes, patterns, and solids. In addition to their standard line, Formica has also released their 180fx laminate. These patterns mimic natural wood and stone surfaces to let you achieve the aesthetic of natural materials with the affordability and functionality of laminate. Regardless of colour or finish, all Formica benchtops are designed for a long life and simple maintenance.
Polytec Benchtops
Polytec laminate benchtops come in a number of product lines for almost any kitchen design. Their Woodmatt line mimics both the look and feel of natural timber. Matera captures the essence of travertine, marble, and other stone materials. Polytec's Smooth finish enhances the traditional aesthetic of laminate with a more luxurious appeal to the eyes and touch. Finally, they can match any design challenge due to their five profile options and three different thicknesses.
Duropal Benchtops
Duropal has been manufacturing high pressure laminate for more than fifty years. So to say they have a reputation for quality is an understatement. Their standard Worktop collection features 61 different decors available in two different profiles (2mm and 3mm). The Compact Worktop Collection features 12 decors and is specially designed for high-impact uses. Both collections include a variety of solid, stone, and woodgrain colors. All Duropal laminates are built with a chipboard core that resists moisture to compliment their already highly water-resistant exterior.
Caesarstone Benchtops
For some, nothing beats the sleek feel of working on engineered stone. Caesarstone benchtops are crafted from raw, natural quartz. Available in 5 colour groups, 4 patterns, and 5 finishes, you can mix and match style options until you find exactly what you need for your kitchen design. Caesarstone counters are heat and scratch resistant. They can be cleaned with simple soap and water, and their non-porous surface naturally prevents the growth of bacteria, mould, and mildew.
Essastone Benchtops
Essastone by Laminex is the brand's answer to luxury engineered stone benchtops. Essastone counters combine classic aesthetics with innovative sophistication. If you are choosing Laminex products for your cabinetry or other kitchen features, you'll be happy to know that their Essastone was specifically designed to match well with their other lines. In fact, their design guide offers 35 different colour combinations to help homeowners find the perfect match. Some are subtle. Others are loud. But they all offer the durability, cleanliness, and superior functionality of engineered stone.
Smartstone Benchtops
Smartstone engineered quartz benchtops are durable, easy to maintain, and simply luxurious. What sets Smartstone apart are their five distinct price points, allowing homeowners to enjoy the beauty of quartz on any budget. All-in-all, they compose 36 unique colours that can be cut to almost any profile. Featuring 93% natural quartz, Smartstone countertops create a natural look and feel with the strength and versatility that only engineered stone can provide.
Quantum Quartz Benchtops
Quantum Quartz has operated in Australia since its establishment in 1989. A part of the larger WK brand, their line of 40 engineered stone varieties are collectively known as Quantum Quartz. Five different colour groups include classic whites, speckled lights, earth tones (light and dark), reflectives, and brilliant blacks. Quantum Quartz comes in four price categories, but all of them enjoy the same benefits of engineered stone: heat and scratch resistance, non-porous surface, protection from oil, acid, abrasion, and more.
Stone Ambassador Benchtops
Stone Ambassador provides an engineered stone benchtop for any need. With 3 finishes, 5 price ranges, and 40 colours, you'll be able to find something you love. Some of their most impressive options feature artistic marble-like veins that make any kitchen design come to life. But Stone Ambassador also features plenty of simple colours to meet a more classic aesthetic. Their benchtops also come with a 10 year warranty, though we doubt you'll need it given that quartz is one of the hardest materials on Earth.
Infinity Benchtops
Infinity is our choice for porcelain kitchen benchtops. Unlike engineered stone, porcelain counters are made from a special clay that is rich in kaolinite and feldspar. Because of the manufacturing process, the possibilities for porcelain are nearly infinite, and the final result is much more practical than natural stone. Infinity porcelain benchtops even feature Natura-vein technology, which allows them to mimic marble-like veins almost perfectly. Porcelain countertops are well-known for being resistant to heat, scratches, and stains, and can be the perfect addition to almost any kitchen design.
Timber Benchtops
Nothing beats the classic and timeless feel of preparing a meal on a natural timber benchtop. It is easy to maintain in a Danish oil finish, and can be cut to a variety of edge profiles to meet your needs. We work with a wide range of species, including Tas Oak, Blackbutt, American Oak, and more. Whatever aesthetic you are aiming for, we can find the timber to match it. While they might seem old-fashioned, timber bench tops are making a comeback for homeowners who want a natural, living feel to their kitchen.